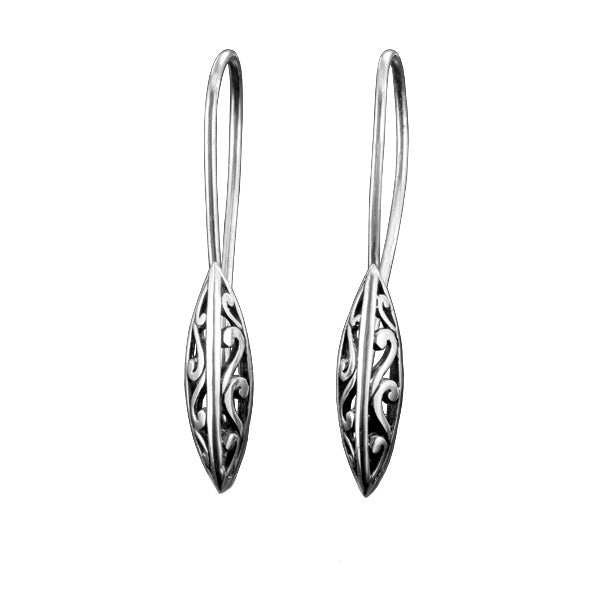 Description

Filigree Sterling silver Long post earrings. 

Should you need any further information or customization, please do not hesitate to contact me.
Production & Delivery Timeframe

Getting and Receiving your order as soon as possible is very important to us. But Please note that all items are Handmade and "Made to Order" taking longer to ship out. This mean that our Stock is limited and we will need to make all orders before they are shipped. Please allow 4-6weeks (30-45 days) to complete order. Depending on the difficulty and Semi-Precious Stone availability, Items may take longer.


Domestic US shipping is $10 via Priority Mail with Tracking. International Priority shipping charges may vary $25-$50. Depending on the country the Customer may need to pay Duty fees to accept the package. ArtSilver may contact you if needed. In-Stock Items and Completed orders may take 2-7 business days to receive from the time that they are shipped. We will notify the customer if there is Stock on an Item or if it needs to be made and will contact you upon completion order.

If you require something quicker please Contact Us
Lifetime Guarantee

 All my work has a full lifetime warranty for production defects. If the customer is not happy with something about my work I will honor the Exchange Policy or Merchandise Credit.
What Material do I use?

Mainly I use  Sterling Silver. The precious metal Sterling Silver is made up of two elements  Copper and  Fine Silver.

Fine Silver contains  99.9% silver while Sterling Silver only contains 92.5 % silver. The other 7.5% is a copper alloy. An "Alloy is something that is added to a Precious Metal like Gold to make the Metal stronger and more durable for everyday use. An Alloy also decreases the purity of the Precious Metal but in return, it will last through everyday "wear and tear" .

Most of my casting (98%) is done "In House production" by me personal. The 2% that is not made by me are components, for example, Earring Posts, Omega Back Findings, Lever Backs, and Cuff Link Findings.

I actually add more Fine Silver into my mix 94%-95% and 5-6% of "Sterilium Alloy" (from United Precious Metals). This Alloy produces a bright silver that holds Tarnish-free for 2 yrs. According to the Guarantee of the alloy.

All my Sterling Silver is nickel-free.
Return Policy

I gladly accept returns and exchanges :

Contact me within: 14 days of delivery
Ship items back within: 30 days of delivery

I don't accept cancellations:
But please contact me if you have any problems with your order.

Returns and exchange details:

Because +90% of my work is "Made to Order", I Do Not give Cash Back Refunds.

Refund can be given as Merchandise Credit or may follow the following Exchange Policy:

Exchange Policy:

I do accept Exchanges if the product is in the same condition as when purchased and if the value of the exchanged item is equal to or greater than the new item.

If the Exchanged Item is Valued much more than the exchanged item, the balance must be payed at that time.

Shipping for Exchanges: Customer is responsible for all shipping charges for the exchanges.

Exchanging for different sizes: Rings can be exchanged for a different size if I have the particular ring in stock. Physical ring sizings by mandrel or by torch will cost the customer $30 plus shipping charges.

Repair Policy and Warranty:

All my work has a full lifetime warranty for production defects. If the customer is not happy with something about my work I will honor the Exchange Policy or Merchandise Credit.

Repair work may take time some times up to 45 days depending on difficult of the repair.

The Bottom line is we want you happy!

If there is an issue, we can work together to resolve the problem. I may issue a new piece if the repair was due to fabrication defects.

I have always been extremely fair and always try to work with my customers reasonably. Negative feedback does not go away and should only be left as a last resort! I strive for positive feedback, harmonious relations and even some friendships. We will make every attempt possible to resolve the issue if we made a mistake (It happens).

Please do not assume a mistake is intentional. Let us know if our service could be better!!


Sending Items back for Repair or Sizing exchange is very easy:

Please include a Note of what needs to be done, contact information, return shipping address and Email address
Please send to:
Shandor Madjar 1715 Mesa Rd, Colorado Springs, CO 80904.


Filigree Sterling Silver Post Earrings - KS 382