Introducing
Handmade & Unique Silver Jewelry Designs
Artsilver jewelry is unique handmade stunning multiform jewelry, this type of jewelry is simply not available in the fashion jewelry stores and can only be acquired from this website or at one of the selected shows attended by Shandor Madjar.
We only use the finest Sterling Silver and semi-precious stones hand made by an artisan jeweler and all our work comes with a lifetime guarantee.
Introducing
Dynamic Multiform Rings
Sterling silver multifunctional transformable, multi form, multi functional ring wearable in 2 styles.
This unique ring is a Conversation Starter!
Two wavy hinged pieces joined together with the bezel set gemstone or pearl floating on the top wavy hinge.
Change it and the hinged pieces disconnect with the waves opposite each other and the gemstone at the top of the wave.
The tides will turn when you put on this ring.

Introducing
Pendant Ring
This pendant ring is a stunning enhancer for your chain. The marquise shaped filigreed rim is centered with a table cut bezel semi-precious gemstone that can swivel only 90 degrees to maintain ring or pendant shape. It will be your hearts delight when you slip this marquise shaped semi-precious ring on your finger. This is not just an adornment but a piece of art.

As you can see in the above photograph, this ring is multi functional and can be transformed into and worn as a pendant.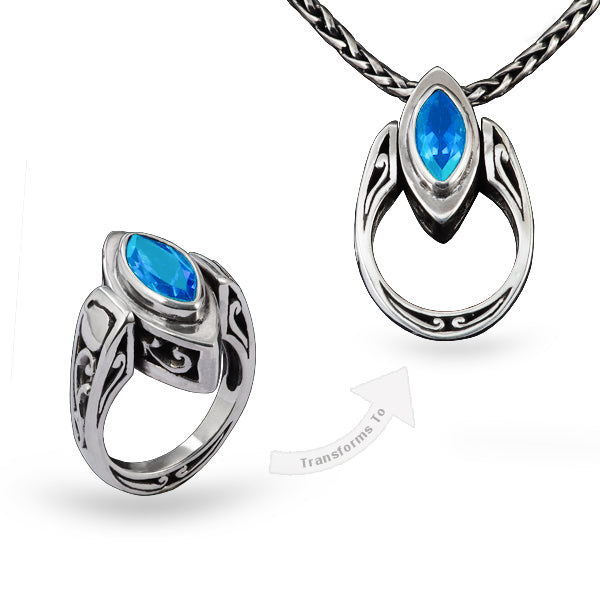 Introducing
Motion Spinning Rings
Researches say that playing with a motion or spinning ring can calm the mind and reduce tension levels.
This spinning ring concept has been around since millenia and the positive effect on anxiety and stress levels was acknowledged by ancient generations.

Motion or spinning rings are also referred as; Worry Ring, Turn Ring, Prayer Ring, Meditation Ring and Stress Ring.
Introducing
Unique Gold & Silver Transformable Jewelry
This lovely Heart Shaped Pendant - Unique Gold Silver Transformable Jewelry is an outstanding Artisan Made Jewelry.

Heart the symbol of love.
This is a sterling silver ring that is dainty and sweet. You will squeal with joy when you cast your eyes on the smooth silver band that leads to a plump curvy sterling heart. The mosaic heart is the center of attraction of this ring. Press the hinge and out pops the magnet hidden behind the heart. Easy wearability.

The heart shape can transform into a completely different shape by turning one side of the pendant around.

Introducing
Angel Wing Pendant
Silver cherub angel wing pendant. Solid sterling silver winged pendant. Silver angel hair has 18 karat gold overlay. Fairies face made of shed deer antler.

No animal was harmed for the deer antler. Naturally, deers lose their antlers annually after their mating season.
Artsilver Hinged Bangle Bracelets Collections
Hinged Bangle Bracelet in Solid Sterling Silver
Sterling silver bangle bracelet with unique twisted hinged design. Stylish silver bracelet with 18 Karat yellow gold overlay on bangle's filigree decoration.
There is a three lock safety system on the clasp with a filigree pattern all the way around.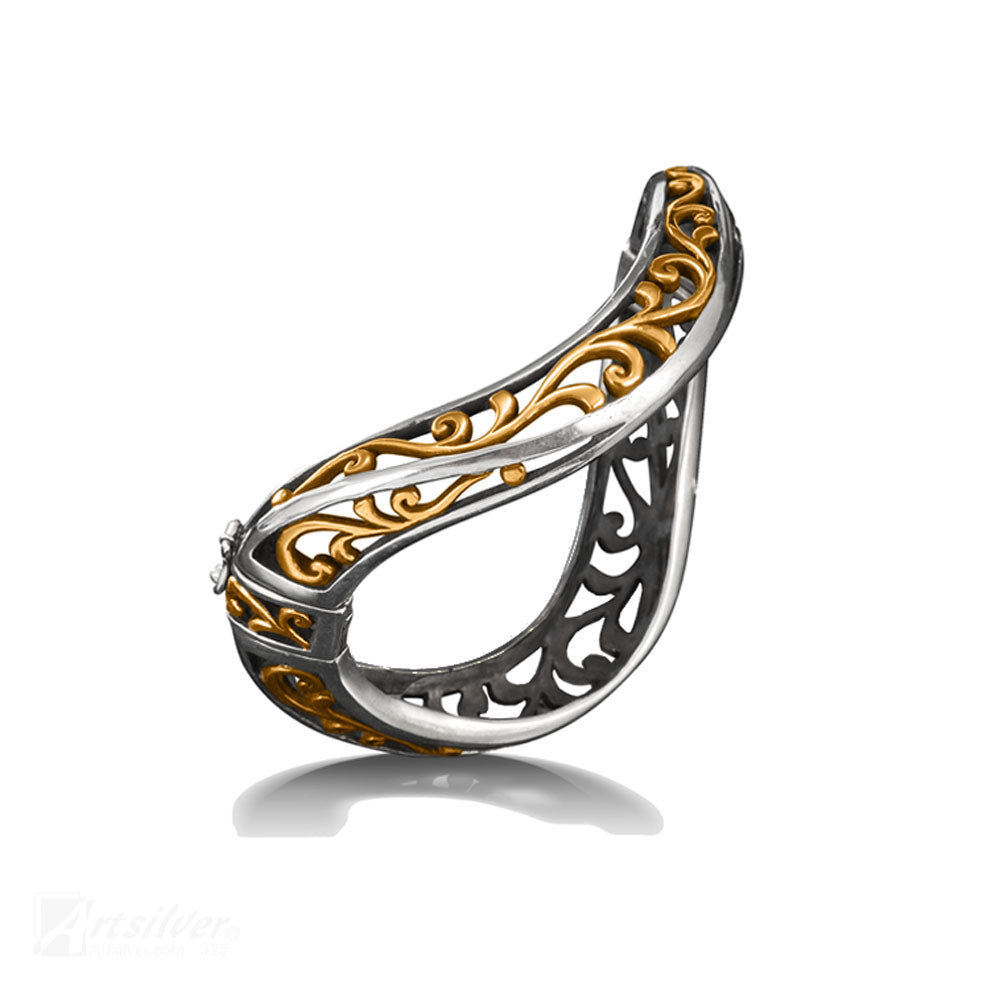 Artsilver Featured Collections
As seen in
Wyandotte Street Art Fair!
Sugarloaf Craft Festivals
State Street District Ann Arbor
Secure transactions
Transactions are handled with bank-grade security.
Simple checkout
Our secure checkout is quick and easy to use.
Get in touch
Have questions? Get in touch with us at any time.
Absolutely love all my jewelry……several rings and a bracelet that I wear every day!
I always enjoy seeing you and your beautiful designs. My favorite part is spending time trying on all the different pieces before I make my purchases. So far I have ring KS089, and bracelets. Bracelet-Silver-KS021 & Bracelet-Silver-KS176 with Gold.I am looking forward to my next purchase soon. Please send me a list of when you will be in northern VA and MD shows. Thanks again for your time, I appreciate it!
I have been so impressed by the unique Artsilver Designs. Looking forward to seeing more