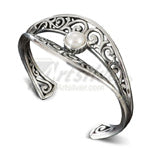 Description

Sterling Silver Cuff Bracelet with semi precious stone
Production & Delivery Timeframe

Getting and Receiving your order as soon as possible is very important to us. But Please note that all items are Handmade and "Made to Order" taking longer to ship out. This mean that our Stock is limited and we will need to make all orders before they are shipped. Please allow 4-6weeks (30-45 days) to complete order. Depending on the difficulty and Semi-Precious Stone availability, Items may take longer.


Domestic US shipping is $10 via Priority Mail with Tracking. International Priority shipping charges may vary $25-$50. Depending on the country the Customer may need to pay Duty fees to accept the package. ArtSilver may contact you if needed. In-Stock Items and Completed orders may take 2-7 business days to receive from the time that they are shipped. We will notify the customer if there is Stock on an Item or if it needs to be made and will contact you upon completion order.

If you require something quicker please Contact Us
FAQ Bracelet
What Material do I use?

Mainly I use  Sterling Silver. The precious metal Sterling Silver is made up of two elements  Copper and  Fine Silver.

Fine Silver contains  99.9% silver while Sterling Silver only contains 92.5 % silver. The other 7.5% is a copper alloy. An "Alloy is something that is added to a Precious Metal like Gold to make the Metal stronger and more durable for everyday use. An Alloy also decreases the purity of the Precious Metal but in return, it will last through everyday "wear and tear" .

Most of my casting (98%) is done "In House production" by me personal. The 2% that is not made by me are components, for example, Earring Posts, Omega Back Findings, Lever Backs, and Cuff Link Findings.

I actually add more Fine Silver into my mix 94%-95% and 5-6% of "Sterilium Alloy" (from United Precious Metals). This Alloy produces a bright silver that holds Tarnish-free for 2 yrs. According to the Guarantee of the alloy.

All my Sterling Silver is nickel-free.
Lifetime Guarantee

 All my work has a full lifetime warranty for production defects. If the customer is not happy with something about my work I will honor the Exchange Policy or Merchandise Credit.